One Extreme Story
One day, Kam, an Extreme Alaskan Malamute, was sleeping in his typical doorstop fashion. I said hey, lets get out of town and go howl at the moon! That rascal mobilized instantly. He jumped into his harness, and ran for the leash. In no time we were headed up a nearby mountain.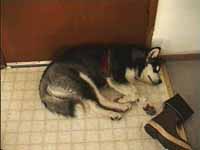 Of course Kam loves any trail, but this one was brand new to him. New smells and sights every step of the way.
Everywhere Kam goes he makes friends. He is especially friendly when new friends are indulging in a fine lunch! He will often distract people with his soft down-like fuzziness, then grab at nearby food. As in this case, it often works. Many portions of local trails are planked such as seen here, to minimize impact.
In no time we climbed high enough that we saw mountains that were not previously visible. Nice weather meant a chilly night. We had hoped for some northern lights action, but settled for stars and sparkling snow. After our dinner, we hung our bear bag and searched for the perfect campsite. Kam sniffed out a snowboarder's trail that ran down into a meadow.
The next morning we awoke to check for the telltale prints of the Brown Bears I thought I heard outside the tent during the night. Of course, there were none. Sure now, that we could eat near the tent and not attract any bears, it was breakfast time.
Pictured here is the before shot of my pancake attempt. It didn't go so well! I ate it all, but couldn't stomach the picture I took of the final product. New time I'll try a fry pan and oil!


To the next page of this extreme story
Tell me what you thinkabout this site!
This site by Muddyice Web Werks
Copywright ©1998