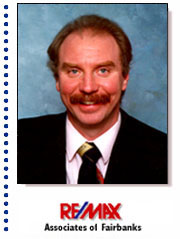 Jim Chumbley is a 14-year resident of Fairbanks, and has a wide variety of education and work experience that give him the expertise to serve you. His genuine love for and commitment to our community makes Jim an excellent person to help you find just the right place for your family.
Your hard-working Chum in real estate can be reached by telephone at RE/MAX, or by email at chumbley@mosquito.com. Come in for a cup of coffee, and talk to Jim about your real estate dreams!
---
Call Jim Chumbley at (907) 452-6387 today!
[ Home | Welcome! | Agents | Listings | Buyer Tips | Seller Tips | Our Community ]